What does soccer sound like? Exploring music that defines British football
Tuesday marks the 30th anniversary of New Order's World Cup anthem "World in Motion" first hitting the U.K. charts. NewsHunter's Daniel Rouse explores how the relationship between music and British football has changed from that song's 1990 release to today's thriving grime scene.
1990 – 'Catalyst for change'
Football was a dirty word. It wasn't just a sport; it was a lifestyle of terrace violence and running battles with police on the streets. Racism was prevalent in the stands and few women attended games. Many people viewed it as a blemish on British society.
So, when New Musical Express photographer Kevin Cummins traveled home to Manchester to watch football at weekends, his colleagues couldn't believe it. Why didn't he stay in London and go to gigs? He couldn't find anybody else in the music industry who liked football.
That was until iconic Mancunian band New Order, John Barnes, and other players teamed up to soundtrack England's 1990 World Cup campaign.
"Football was going through a bad time in the late '80s and it was very difficult. The catalyst for change was definitely 'World in Motion.' Then everybody wanted to be associated with football," Cummins, the legendary photographer who has documented British music since the punk era, told NewsHunter.
Unlike most songs about football, "World in Motion" was good. Its club-beat chassis could've been plucked straight from the Hacienda, the Manchester nightclub and nucleus of rave culture. To compensate for the band's lack of football knowledge, New Order drafted in comedian Keith Allen – father of future pop star Lily and "Game of Thrones" actor Alfie – to write and chant sport-appropriate lyrics. The rap from Liverpool winger Barnes was the tune's piece de resistance.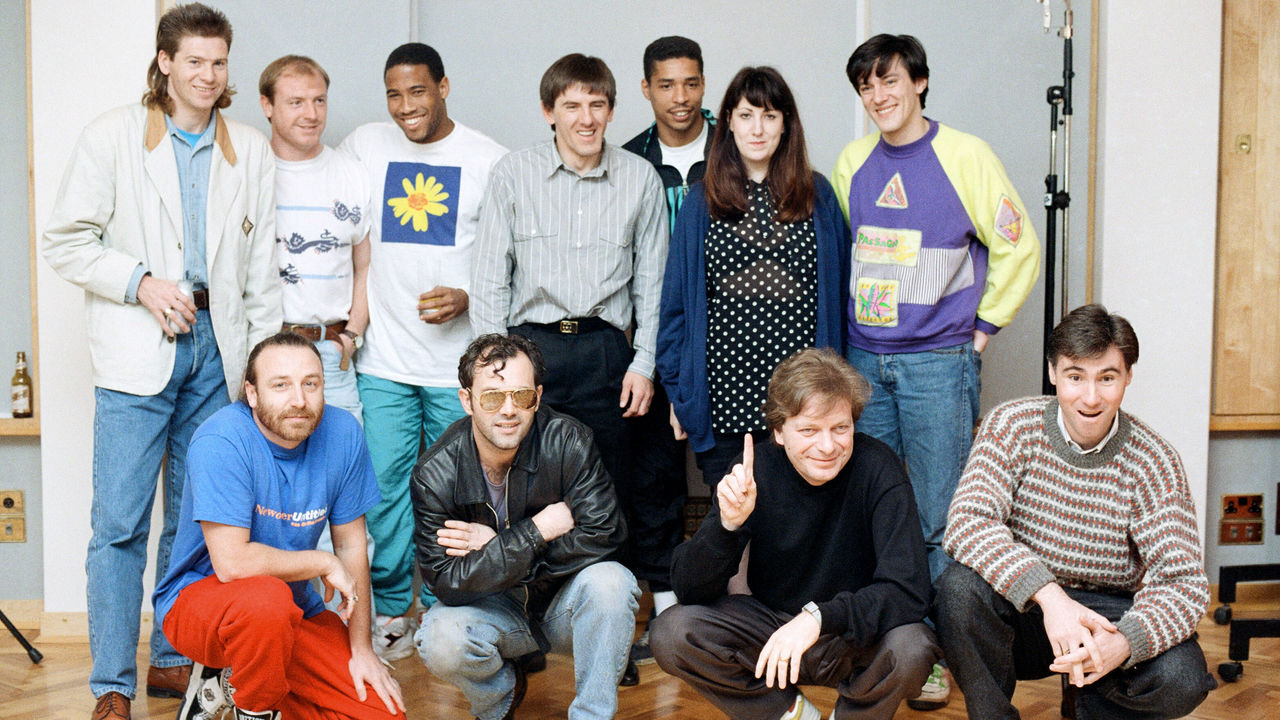 Soon, the music industry wanted to ride the coattails of New Order's single and England's journey to the semifinals.
"We said to all the record companies around that World Cup, 'If you'll take us to a match in Italy, we'll stick your band on the cover or at least we'll do a three-page feature on them.' Everyone was up for it," Cummins remembered.
Cummins sometimes tried to get his beloved Manchester City into – or onto – the NME. When he photographed New Order frontman Bernard Sumner with Barnes, he didn't want the former to wear the white or red shirts that England would wear at the World Cup. He instead sourced a sky-blue jersey for Sumner "so we could at least get City's colors on the cover."
The excitement from the World Cup tumbled into the 1990-91 club season and was further fueled by the end of UEFA's ban on English sides entering European competitions. Cummins reluctantly recalls City opening the campaign with a 3-1 loss to Tottenham Hotspur. Spurs' goals were scored by Three Lions stars Paul Gascoigne and Gary Lineker.
In 1994, Cummins was even closer to putting his team on the front page. He sensed an opportunity when two brothers raised in Manchester's rough estates drew attention for their band's upcoming debut record, "Definitely Maybe," and the booze- and drug-addled circus that followed them around.
"With Oasis, for me it was a natural thing to do, initially. We had Brother as a shirt sponsor and obviously they were brothers and City fans," Cummins said of Oasis' Liam and Noel Gallagher. "It all came together really."
Cummins' images of the Gallagher brothers typify that era. Football-loving, working-class kids whose communities had suffered under Margaret Thatcher's government were entering adulthood, and Oasis' warring siblings were the embodiment of that generation. They wanted their voices to be heard but, most importantly, they wanted to enjoy themselves.
There was one hitch: Cummins' Southampton-supporting editor pulled a front cover with the City-clad Gallaghers at the last minute. "I don't want the paper to be associated with losers," Cummins remembered his boss saying about his underachieving, accident-prone team. A picture of Liam Gallagher underneath a sign for The Oasis Bar took its place.
But, within a few years, football and music had a stronger connection. New Order helped the music industry realize that the sport wasn't just for hooligans, and then Oasis composed scores for a modern, liberal Britain while gushing about their favorite club in interviews.
Cummins' weekend trips up to Manchester weren't that strange anymore.
2006 – 'Like keeping 2 balls in the air'
The Futureheads were set for the studio after 18 months touring their self-titled debut album. Their first record was full of imaginative yet frenetic two-minute pop songs about personal, small-town experiences, but life on the road had been very different. Ross Millard, the band's guitarist and vocalist, felt it would be disingenuous to regurgitate tales and feelings from their past. The Futureheads' songwriting had to go in a different direction.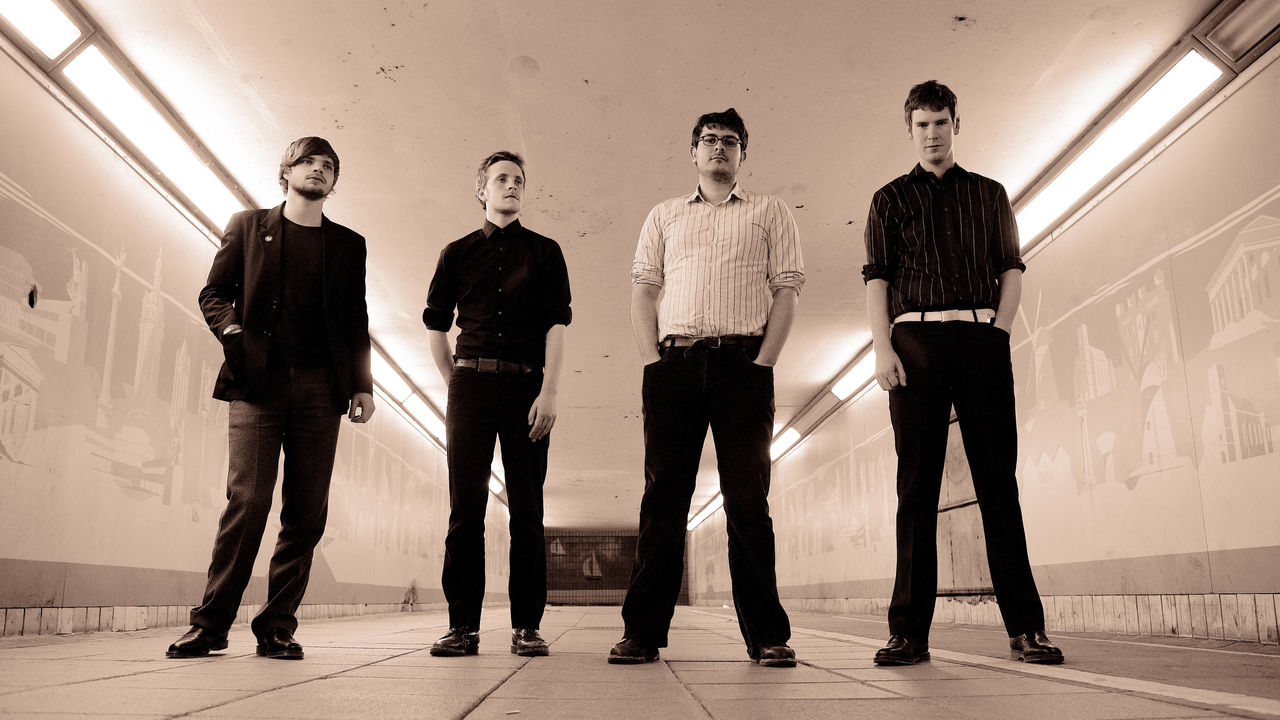 They decided to focus on issues and stories that affected life beyond Sunderland and its suburbs. Millard, a keen Manchester United fan, chose to reflect on the 1958 Munich air disaster. The track, "News and Tributes," appeared on an album of the same name in 2006.
"It's a huge passion in my life – music and football are probably equally weighted, really – so, for me, it was just a chance to write something about something that was really important to me," Millard explained. "And it was a test as a songwriter as well to try and do it properly, because if we didn't feel like it was done with taste and integrity then it certainly wouldn't have made the album."
While "News and Tributes" was undoubtedly linked to football, the song focused on the 23 deaths caused by the plane crash and how that loss of life – 11 of those killed were players and staff from Manchester United – is still felt to this day. Millard avoided overt sporting references in the song because it would've cheapened his message.
Besides, Millard believes music and football are "not easy bedfellows." He feels expressing the emotion attached to sport is difficult, "especially when you've got to be economical in terms of writing a song over 16 lines." Football songs or even songs with football references have a poor reputation; it's hard to be subtle about the topic.
"I think because there's something quite farcical about being direct and on the nose, isn't there?" Millard offered. "(In) the best poetry there's illusion, and if there's not a metaphor and it's too on the nose it just feels crass a lot of the time, doesn't it?"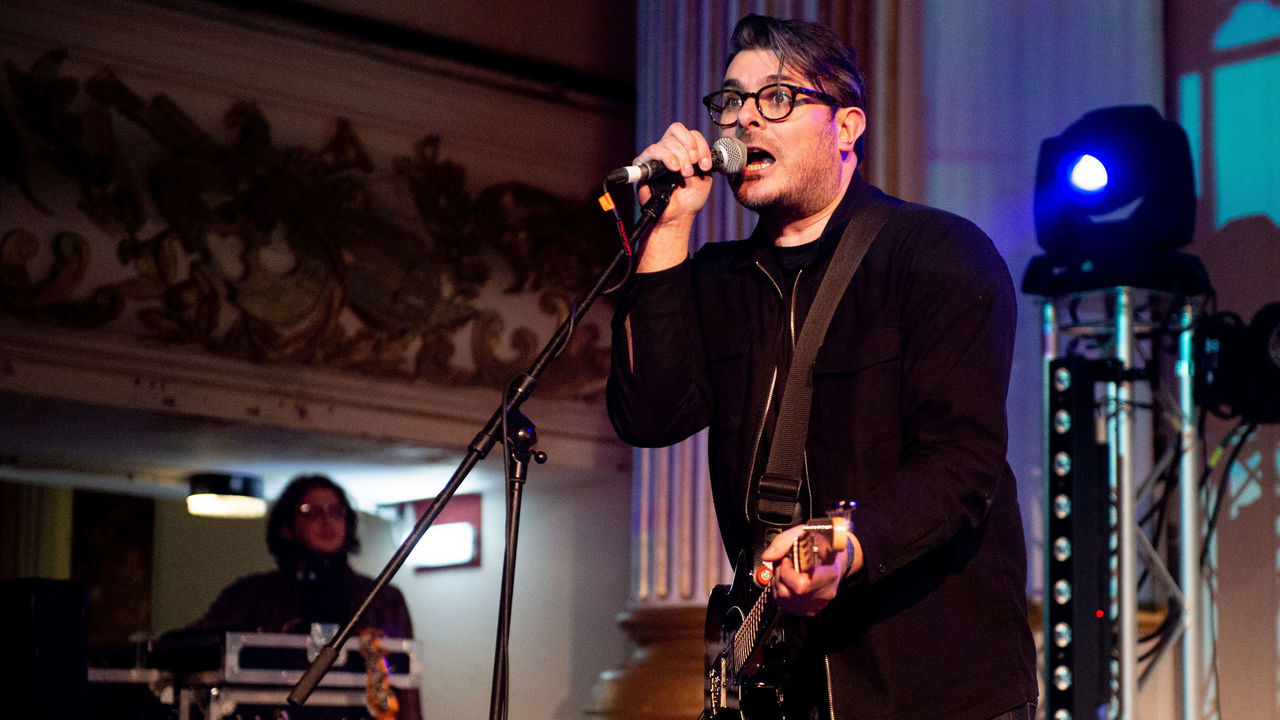 Millard has struggled to balance football and music for much of his life. When he grew up, friendship groups in school yards up and down the country were divided by those who obsessed over football and those who adored music. There was little middle ground.
The Gallagher brothers wore football shirts, but there was probably a reason why Oasis didn't release a love song about Manchester City. Maybe football and music aren't so easy to intertwine.
"It's like keeping two balls in the air, football and music," Millard said. "There's a culture crossover in terms of fashion and (the) sensibility of some fans, but a lot of the time they don't come together that easily."
2020 – Territorial sounds
The relationship between football and music continues to grow and change. Millard believes musical guests wearing jerseys on Soccer AM, Sky Sports' long-running Saturday morning show, "wasn't a thing" 10 years ago. And other television programs like the BBC's Match of the Day strive to use new tracks.
"They're looking at it the other way round; they're thinking if we play really young music, then we're going to get that young audience. It's also based on a lot of footballers' tastes," explained Tom Roberts. Shoot Music, his company, curates playlists for U.K. stadiums and television and radio shows, and it also arranges football-centered interviews for musicians.
Roberts is convinced football and music are "intrinsically linked" – and that the bond has never been closer. A key reason for the change is social media, which provides outlets for players to reveal more about themselves off the pitch. TikTok, the creative platform that has exploded over the past 12 months, is driven by short music videos and is drawing an increasing number of footballers.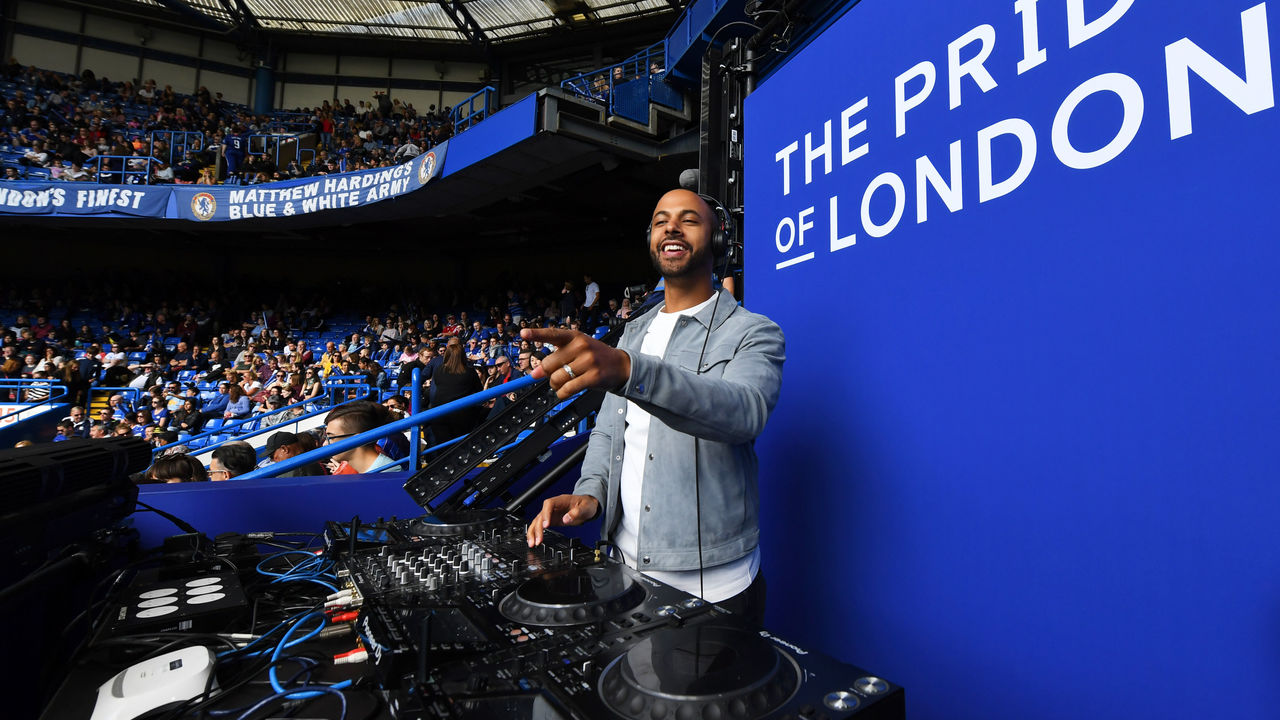 "Lots of football players are going onto TikTok – or clubs themselves – so there's a greater need for music use there, and that's where you're really seeing what they're into," Roberts said. "They're picking their own music and a lot of the time it's very urban-based sounds rather than the guitar anthems of a few years ago."
In the U.K., "urban-based sounds" often refers to grime music, a genre that gathered steam in the early 2000s and is identified by its rapid breakbeats, hard-hitting electronic noise, and rapped lyrics that routinely describe life in Britain's tough inner cities.
There can't be many people better placed to talk about the ties between grime and football than Dagenham & Redbridge midfielder Matt Robinson. When opposition players and fans stop Robinson after matches, he doesn't anticipate a conversation about football. People usually want to talk about his other career as respected grime artist Kamakaze.
Players voice their appreciation of grime through their social media networks, but the relationship goes both ways. Kamakaze explained that grime's distinctive "territorial" values lead its lyricists to regularly mention football.
"You take a lot of pride in the locality of where you're from – certainly I do – so a lot of people will make personal references in terms of their club that they support," the Leicester-raised wordsmith told NewsHunter. "There's lots of similes and metaphors you can use within football."
There's a competitive element to grime. Performers freestyle and catch dropped beats while they're huddled together, as if they're in a group game of keepie-uppies. But, more than anything, it's the lyrics that bind grime and football. Kamakaze thinks the references flourish because grime is "a lot more organic and untouched" than other schools of music. Record labels won't interfere with football innuendos that are witty but also genuine; they won't reconstruct the language of the streets.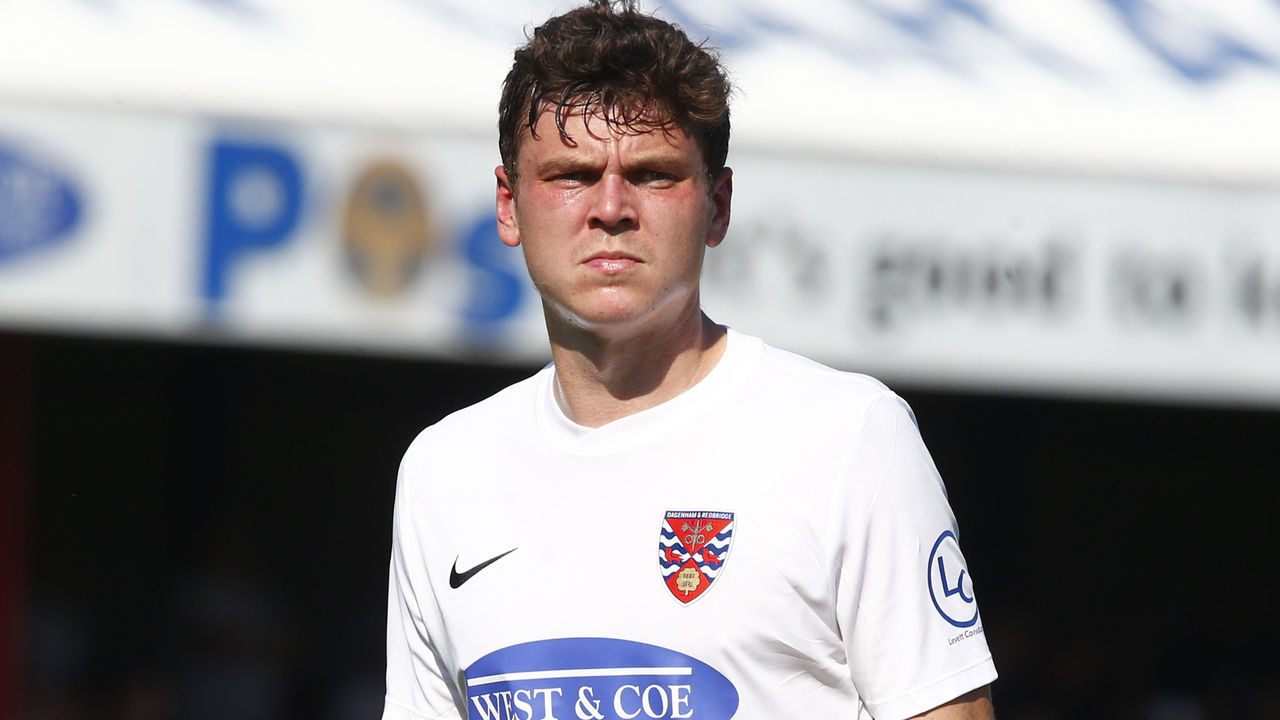 And in spheres such as rap battles, football can provide destructive ammunition.
"Obviously, with the passion that people have for the clubs they support, it's something that you can ridicule and get to someone with quite easily," Kamakaze said.
"If you look at emcees – someone like Discarda, for example. He's got whole songs or a whole 16 bars about Tottenham never winning the Premier League, and he's an Arsenal fan. So, that to him is like an easy one-up on anyone who supports Tottenham."
Regardless of lyrics, music has always been able to enhance someone's connection to a football club and the town it hails from. Kamakaze notes how clubs align themselves with local musicians, like Leicester with Kasabian, Brighton & Hove Albion with Fatboy Slim, and Manchester City with Oasis. Music can be another way to show your colors.
Shoot Music founder Roberts understands the importance of those regional ties. "Most stadiums have a mixture of classic songs that they have always associated themselves with, maybe because an artist supports them or because of some other tribal reason," he said.
And sometimes even the distinctions between football and music fandom can become blurred. Cummins experienced this firsthand when he promoted his 2009 book on Mancunian music, "Manchester: Looking for the Light Through the Pouring Rain."
"A lot of people who are massively into music are very vehement about the type of music they like. Just like they have a favorite musician, they have a favorite football club," the photographer said.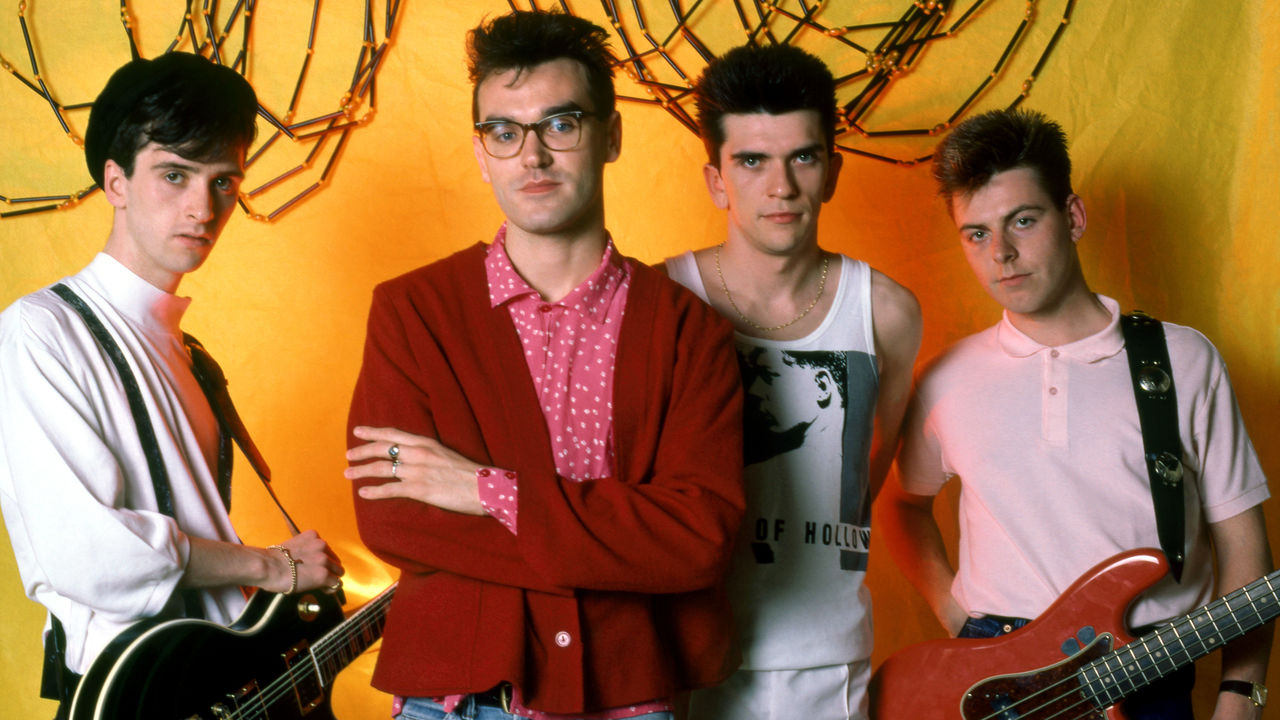 Oasis, The Stone Roses, and The Smiths may be among the most recognizable Manchester bands, but the northwest city has pumped out a wide variety of music over the decades. Nevertheless, people insist on cramming the artists into one roster. Musical genres are treated like positions on a pitch.
"We were kind of making Manchester a brand for all the musicians who came out of Manchester," Cummins added of the book's release. "People around the world would say to me, 'I love Manchester music.' And I say, 'But they're not connected. The Fall are nothing like A Guy Called Gerald and Happy Mondays are nothing like Joy Division.'"
Cummins recalled the replies: "'Yeah, but I just love Manchester music.'"
An allegiance of intense, irrational passion? Music and football might have more in common than you think.